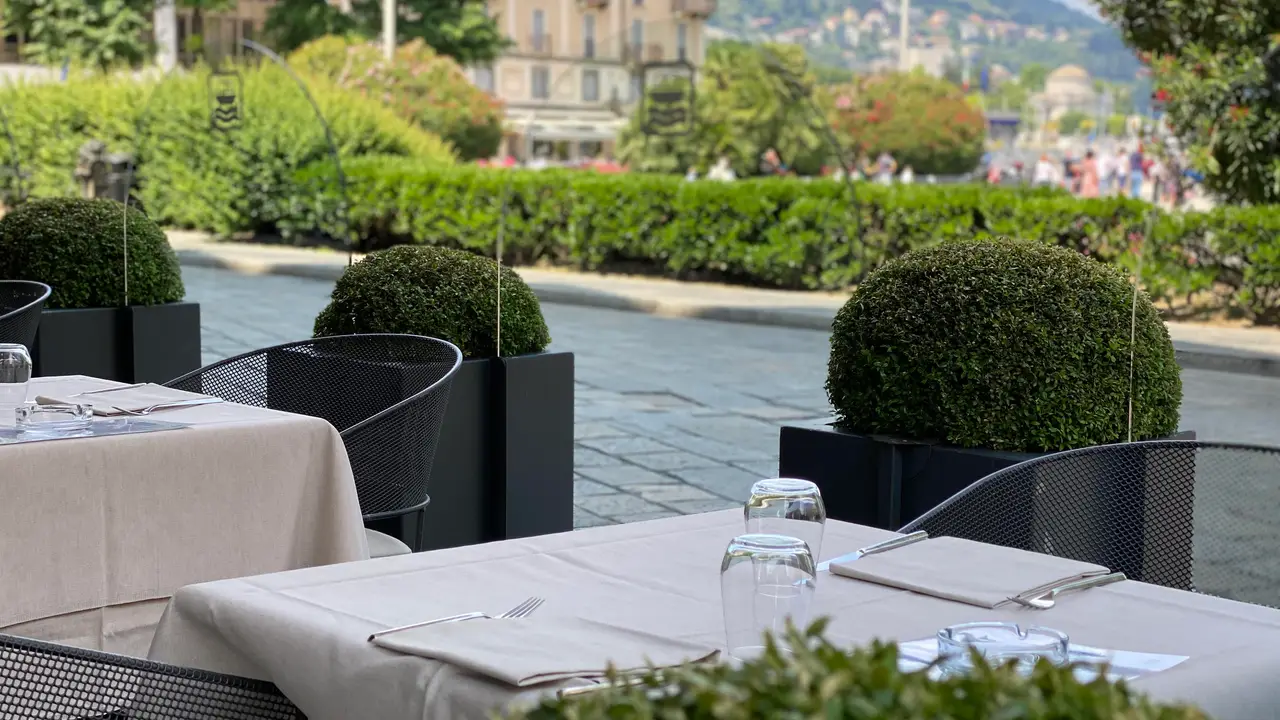 Etiquetas principales:
Joya del vecindario

Ideal para comidas en la terraza

Genial para ocasiones especiales
Haz una reserva
---
---
---
Hay disponibles experiencias.
Información adicional
Horarios

Comida Todos los días 12:00–14:00 Cena Todos los días 19:00–21:30

Número de teléfono

031 3221

Opciones de pago

AMEX, Mastercard, Visa

Código de etiqueta

Informal y elegante

Chef ejecutivo

Christian Babuin
Esquina con la calle:

Piazza Cavour, 1 Como

Detalles del aparcamiento

Sin

Transporte público

Bus stop in front of the hotel;<br />Train station 300 mt far from the restaurant

Adicional

Admite la entrada de perros, Bar / Sala pública, Bar completo, Cervezas, Cócteles, Comida al aire libre, Hora feliz, Para no fumadores, Vinos
NEW YEAR'S EVE AT RESTAURANT BISTRO

Ring in the New Year with us! The evening begins with some lavish finger food delights, featuring oysters, Aubergine caviar, spiced octopus, and more. Indulge in our exclusive gourmet menu, showcasing highlights like salted cod with Norcia black truffle, foie gras terrine paired with scampi and chicory, and the Wellington-style beef fillet. Each course will be expertly complemented by a selection of fine wines. The dinner will end before midnight, allowing you to enjoy the fireworks lighting up the sky above the lake, a magical moment to embrace the arrival of the new year. *50% non-refundable deposit at the time of booking.
Qué opinan los comensales
Valoraciones y opiniones generales
Solo pueden enviar opiniones los comensales que hayan probado este restaurante.
3,9 según las valoraciones recibidas
3,9

Comida

4,3

Servicio

4

Ambiente

3,7

Calidad/precio
Fecha de la visita: 25 de septiembre de 2022

Global

4

Comida

4

Servicio

5

Ambiente

5



Limpieza y desinfección

Las superficies se desinfectan después de cada cliente
Las zonas comunes se limpian a fondo todos los días

Distanciamiento físico

Distanciamiento en las áreas comunes
Equipos de protección

Los camareros usan mascarilla
Preguntas frecuentes
Ristorante Bistrò tiene una valoración de 3.9 estrellas de 1 clientes de OpenTable.
Normalmente, podrás reservar en este restaurante a través de OpenTable eligiendo la fecha, la hora y el número de personas.
Haz una reserva
---
---
---
Hay disponibles experiencias.
Información adicional
Esquina con la calle:

Piazza Cavour, 1 Como

Horarios

Comida Todos los días 12:00–14:00 Cena Todos los días 19:00–21:30

Código de etiqueta

Informal y elegante

Detalles del aparcamiento

Sin

Transporte público

Bus stop in front of the hotel;Train station 300 mt far from the restaurant

Opciones de pago

AMEX, Mastercard, Visa

Chef ejecutivo

Christian Babuin

Adicional

Admite la entrada de perros, Bar / Sala pública, Bar completo, Cervezas, Cócteles, Comida al aire libre, Hora feliz, Para no fumadores, Vinos
Número de teléfono

031 3221